3D Printed vs. Milled Dentures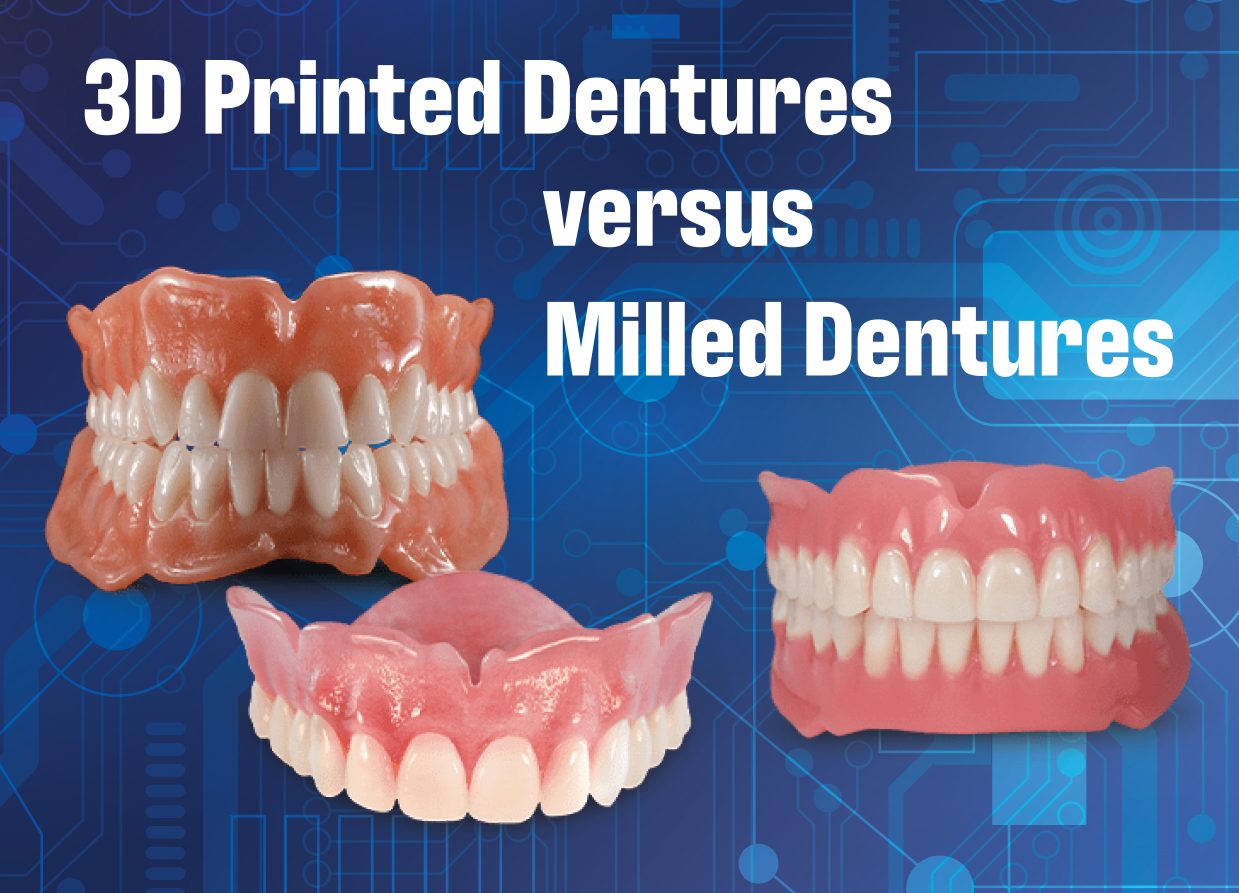 Digital dentistry has had a relatively slow growth. From the hundreds of dental professionals we speak to, there are a couple common reasons for not using digital dentistry. The major reasons are:
Cost of equipment
Ease of Use
Full Arch Accuracy
The cost of equipment is decreasing every day. Companies such as Itero and Medit have incredible intra-oral scanners, but they have priced those scanners at the high end of the market around $40,000 – $50,000. The ease of use is now no longer an issue with these premium scanners. They are easy to use for quad dentistry – intra-oral scanners are the clear solutions. When we look at manufacturing, there are two clear industries looking to impact the dental industry: 3D printers and milling machines.
3D Printed Dentures
In general, 3D printing involves adding layers to objects to "build them up". These 3D printers usually print small layers, like a regular printer would, but stacks these layers on top of each other. Currently, 3D printers are mostly being used for making surgical guides and printing models. Some companies are now starting to print multiple shaded teeth as well.
Pros: Potential to print in multiple colors
The most innovative 3D printer out there is known as the Carbon 3D printer. Rather than printing in layers, this printer uses continuous light to "pull" an object out of the material. By eliminating the layers, the resulting print is much stronger.
Cons: Esthetics, Accuracy & Strength
Most conventional printers use layers which have downsides in regards to strength and accuracy. Many printers print in layers 8-15 microns thick. While these layers are quite small in the conventional world, in the dental industry, this isn't very accurate. Esthetics are getting better every single day. In general, most 3D printers today are 1/3 of the accuracy of milling machines and 1/3 the strength (with the exception of the Carbon 3D printer which currently can only print in one color).
Milled Dentures
Dental milling machines have been used in the dental industry for decades. Rather than adding layers, you start with a solid block (disc) and mill away material to get the desired shape.
Pros: Incredible accuracy
Perfit Dental Solutions is currently using the iMes-iCore 650i. The accuracy of the machine is 0.5 microns. When we compare that to a human hair at 70-90 microns – the accuracy is truly incredible. The machine is ideal for milling dense materials such as metal.
Cons: No ability to add multiple shades.
In order to make a denture using a milling machine, you generally have to combine multiple parts. For example – in most instances, the denture base is milled, then denture teeth are cemented in place.
Go Digital Promotion
Elegant Dental Laboratories has deal to help you go digital with your cases. Get a iTero Scanner or a Medit Scanner on us when you send us in $850 or more worth of digital work per month and keep your account in good standing. Contact us

here

for more details today!