Before and After Sept 22'nd, 2023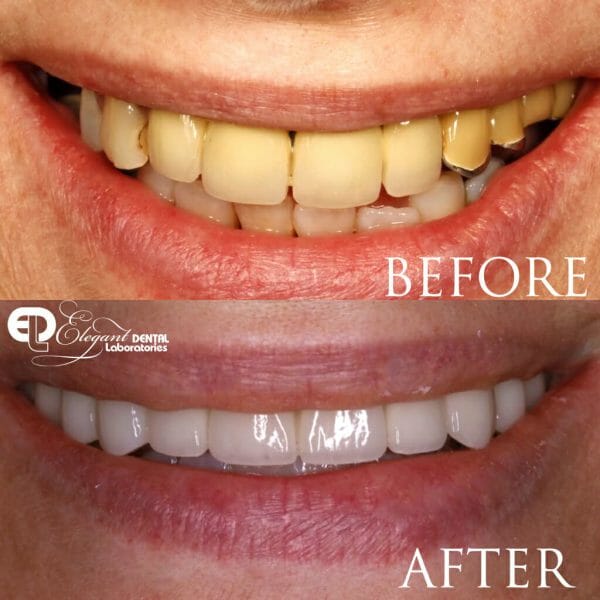 Today we have a case of a 𝗭𝗶𝗿𝗰𝗼𝗻𝗶𝗮 𝘄𝗶𝘁𝗵 𝗕𝘂𝗰𝗰𝗮𝗹 𝗣𝗼𝗿𝗰𝗲𝗹𝗮𝗶𝗻, we made for a patient.
Only 𝗘𝗹𝗲𝗴𝗮𝗻𝘁 𝗗𝗲𝗻𝘁𝗮𝗹 𝗟𝗮𝗯𝗼𝗿𝗮𝘁𝗼𝗿𝗶𝗲𝘀 can make such a successful case possible.
Truly such Elegant work!
New Promotion Alert! "No Questions Asked Remake Policy"

We are excited to announce our latest promotion effective September 1st, 2023. We understand that even with advanced technology, occasional hiccups may occur. That's why we are introducing our "No Questions Asked Remake Policy." If you're not satisfied with a restoration, simply let us know, and we'll remake it for you without any hassle. Your satisfaction is our priority.
Experience the Elegant Difference
At Elegant Dental Laboratories, we pride ourselves on our commitment to quality, precision, and innovation. With cutting-edge technology and a team of skilled technicians, we deliver restorations that meet the highest standards of excellence. Whether it's crowns, bridges, implants, or orthodontic appliances, we've got you covered.
Ready to elevate your digital dentistry game?
We're excited to be your partner on this digital dentistry journey. Let's create smiles together!